6th International Workshop of Knowledge Management
A Short Report on the 6th International Workshop on Knowledge Management

The already traditional annual workshop IWKM was organized this year in Bratislava, October 21 and 22. The thirty registered participants and a few of PhD. and Mgr. students of the VSM School of Management met in the room No. 113 of the Bratislava headquarters of the school for sharing the newest information on both theoretical and practical issues of the relatively broadly understood field of knowledge management.
Seventeen well prepared contributions prepared by authors form academic and entrepreneurial circles from four countries (Czech republic, Finland, Hungary, and Slovakia) have been excellently delivered during the workshop, and provide a relatively good picture on the state-of-the-art in development of theory and practice of knowledge management in the Central European region, and on professional activities in the field at the VSM School of Management, as well.
The written versions of all the contributions can be found in the CD Proceedings of the workshop published by the VSM School of Management (ISBN 978-80-89306-12-1).
My cordial thanks go to Martin Bokor, Ela Csibová, Marek Karais, Katarína Klinková, and Tatiana Mattová for the technical support, and to Martin Nehéz, the co-editor of the workshop CD proceedings, for his enthusiastic editorial work and effective communication with contributors on technical details of their texts, and last but not least to all participants of the 6th International Workshop on Knowledge Management for creating a stimulating, friendly working atmosphere.
Jozef Kelemen
The 6th IWKM Chair
Program: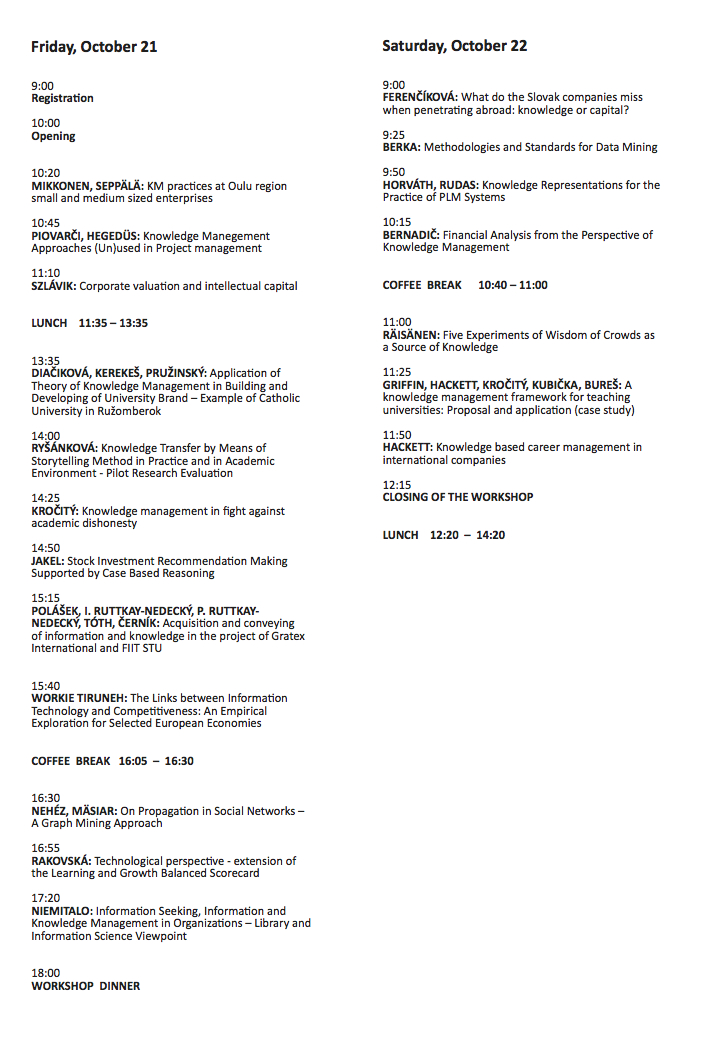 images/gallery/knowledge-management-workshop/dsc_0040.jpg
images/gallery/knowledge-management-workshop/dsc_0041.jpg
images/gallery/knowledge-management-workshop/dsc_0043.jpg
images/gallery/knowledge-management-workshop/dsc_0046.jpg
images/gallery/knowledge-management-workshop/dsc_0050.jpg
images/gallery/knowledge-management-workshop/dsc_0053.jpg
images/gallery/knowledge-management-workshop/dsc_0054.jpg
images/gallery/knowledge-management-workshop/dsc_0059.jpg
images/gallery/knowledge-management-workshop/dsc_0064.jpg
images/gallery/knowledge-management-workshop/dsc_0067.jpg
images/gallery/knowledge-management-workshop/dsc_0074.jpg
images/gallery/knowledge-management-workshop/dsc_0078.jpg
images/gallery/knowledge-management-workshop/dsc_0080.jpg
images/gallery/knowledge-management-workshop/dsc_0081.jpg
images/gallery/knowledge-management-workshop/dsc_0083.jpg
images/gallery/knowledge-management-workshop/dsc_0084.jpg
images/gallery/knowledge-management-workshop/dsc_0085.jpg
images/gallery/knowledge-management-workshop/dsc_0087.jpg
images/gallery/knowledge-management-workshop/dsc_0088.jpg
images/gallery/knowledge-management-workshop/dsc_0093.jpg
images/gallery/knowledge-management-workshop/dsc_0097.jpg
images/gallery/knowledge-management-workshop/dsc_0102.jpg
images/gallery/knowledge-management-workshop/dsc_0106.jpg
images/gallery/knowledge-management-workshop/dsc_0107.jpg
images/gallery/knowledge-management-workshop/dsc_0108.jpg
images/gallery/knowledge-management-workshop/dsc_0110.jpg
images/gallery/knowledge-management-workshop/dsc_0113.jpg
images/gallery/knowledge-management-workshop/dsc_0115.jpg
images/gallery/knowledge-management-workshop/dsc_0119.jpg