A former US Ambassador Vincent Obsitnik visited VSM / CityU
A former US Ambassador Vincent Obsitnik visited Vysoka škola manažmentu-CityU of Seattle in Bratislava on May 3. At a meeting with students and teachers he talked about his life in the USA, where he immigrated at the age of one month in 1938, together with his parents from Eastern Slovakia. His father worked as a coal miner in Pennsylvania. After his studies, Mr.Obsitnik graduated with honors from the US Naval Academy in 1959, and later he received his MBA degree in Finance from the American University in Washington, D.C. Mr.Obsitnik has had excellent corporate executive career with the IBM and other corporations and has served in many countries on several continents.
Mr.Obsitnik was sworn in as the Ambassador of the United states of America to the Slovak Republic in 2007 and served in this role until January 20, 2009, when Republicans were replaced by Democrats in the White House. His main diplomatic achievement was his role in the US visa waiver to Slovak citizens.
Our guest was interested in the role of VŠM-CityU in the Slovak higher educational system and appreciated our role in electronic controlling of plagiarism, in application of information technologies in external studies, in student oriented education, etc.
In the evening prior to the visit to our school, the Ambassador and his wife Annemarie, together with prof. Hvorecky, were hosted by the Rector of VŠM and his wife.
(Some facts about Amb.Obsitnik life were taken from Wikipedia)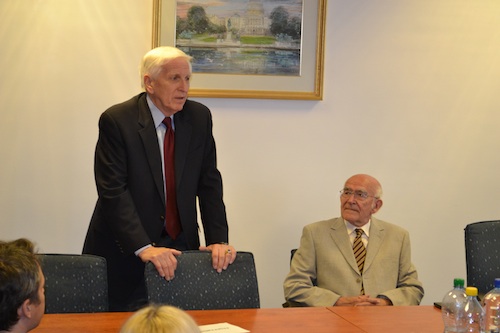 Ambassador Obsitnik and Rector Lichardus.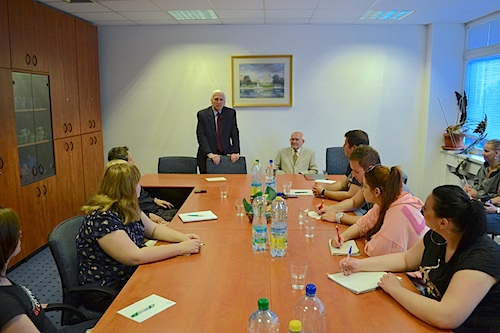 Ambassador Obsitnik talking to students and teachers.