Barça Innovation Hub - Universitas online programs reach Slovakia via Vysoka skola manazmentu / CityU of Seattle Programs
Vysoka skola manazmentu / City University of Seattle Programs has joined the Barça Universitas global network for the dissemination of online training programs in Slovakia. FC Barcelona has become a sports club and a social entity with worldwide relevance and global reach, a powerful, recognized brand. With the aim of expanding the club's values and experience, Barça Innovation Hub has been created as a global center for knowledge, research, training, and sports innovation.
Barça Innovation Hub - Universitas is Barça Innovation Hub's digital platform for the transmission of knowledge, and allows knowledge to be valued and shared with the world through training programs. The subjects explored are related to five specific areas of knowledge: sports medicine, performance, technology, team sports, and social sciences.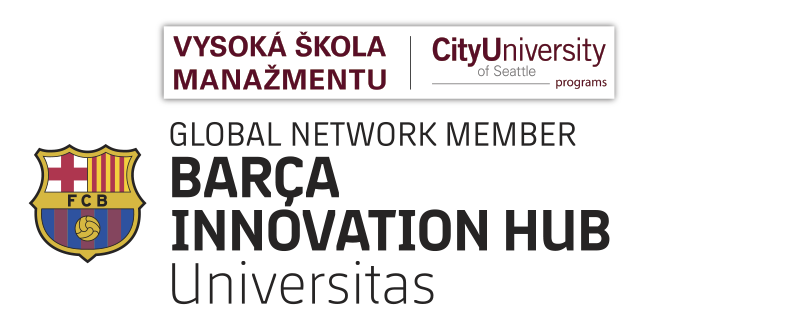 The entire learning process is imbued with a profound conception of technology, content, support, and personalization, to create transformative learning experiences with lasting impact. Currently there are nineteen active programs divided into two main areas: Sport Management/Marketing and Sport Science. Each program focuses on current and innovative topics, with a specific objective: to contribute to improving the professionalization of the sports industry. These programs are:
SPORT MANAGEMENT AND MARKETING
Current Issues in Sports Governance
Leadership, Ethics and Social Responsibility
Basic Elements of Sports Law
Certificate in Communication in Sports Organizations
Certificate in Sports Marketing and Sponsorship
Certificate in Sports Facilities Management
SPORT SCIENCE
Certificate in Psychology for High Performance Sports
Certificate in Training for Team Sports
Certificate in Neuroscience and Training
Certificate in Sports Nutrition
Certificate in Team Sports Physician- Essential Concepts
Certificate in Sport Psychology for Athletes Development
Certificate in Workload Management in Football
Certificate in Workload and Injury in Team Sports
Certificate in Advanced Sports Nutririon
Certificate in Sports Nutrition for Football
Barça Coach Academy - Introductory level
Certificate in Strength Training: From Rehabilitation to Performance
Certificate in Psychology for Sports Coaches in High Performance
To improve the professionalization of the sports industry in all corners of the globe, Barça Innovation Hub - Universitas has built a global network made up of various institutions linked to the educational and sports sector, who are responsible for the dissemination of Barça Innovation Hub - Universitas online programs in their respective countries and/or regions. Vysoka skola manazmentu / City University of Seattle Programs is a member of this network in Slovakia contributing to the important objective of expanding the knowledge of these programs among professionals and students in their country. For more information on the certificate programs click HERE.